Quality improvement (QI) at AIIMS, New Delhi
Quality improvement (QI) and patient safety are important components in modern-day health care. With an aim to improve facility-based patient care the quality improvement (QI) team at All India Institute of Medical Sciences, New Delhi has not only pioneered in-house quality improvement projects but have also engaged in improving knowledge and skills of QI methods to a large number of healthcare teams from member countries of South-east Asian Region (SEAR). This has resulted in a number of QI projects being implemented across different health facilities in SEAR.
The AIIMS quality improvement initiatives started under the leadership of the Director AIIMS in August 2015, and led by Prof AK Deorari (Dept. of Neonatology). Four quality improvement workshops were held (August – October 2015) under the guidance of experts from IHI and USAID ASSIST with the objective of bridging the gap between knowledge and implementation for sensitization of faculty (doctors and nurses) and in- service nursing professionals. Participatory learning sessions (3- 4 hours each) were done for select teams from five departments in AIIMS at the first workshop which was then expanded to other departments and new projects by teams from all departments. The objective of workshops were to instill concept of QI for improvement of patient care, to test simple doable QI projects by creating local teams at workplaces.
These projects were later presented in several meetings, AIIMS institute day, clinical grand rounds, posters in international conferences, and are now also part of the undergraduate teaching curriculum. Subsequently there were workshops to train faculty, nursing staff and residents. Recently there was sensitization of teams from the 6 AIIMS, JIPMER Pondicherry and PGI Chandigarh. In addition, few departments are undertaking QI dissertations and theses (Postgraduate and DM) as well. Young faculty members can take a key role to lead quality improvement projects in their departments and become champions to spread awareness about quality improvement among their peers and students.
We formed an AIIMS IHI chapter where members can get free access to excellent quality care and patient safety materials. An AIIMS QI facebook page helps teams keep updated about new developments, workshops and projects. A four step participatory Learning Module to learn basics of QI is developed by AIIMS Team .Completed QI projects are available on Youtube. 
External trainings (India):
| | |
| --- | --- |
| Training | Funding |
| QI TOT – Chandigarh , June 2016 | WHO India  Country Office |
| QI TOT - Delhi, March 2016 | WHO India  Country Office |
| QI TOT Nurses Goa, August ,2016 | WHO India Country Office |
| EPIQ QI TOT Delhi ,15-16 June, 2016 | Canadian |
| HBB with QI AIIMS ,Delhi June 2016 | American Academy of Pediatrics |
| State NHM West Bengal 3-6 July 2016 | UNICEF |
| Follow up West Bengal 2 September ,2016 | State NHM |
 External trainings (Outside India):
| | |
| --- | --- |
| Training | Funding |
| TOT Paro, Bhutan Nov 2015 | WHO Bhutan Country Office |
| TOT at Regional Hospital ,ThimphuApril 2016 | KhesarGyalpoUniversity of Medical Sciences ,Bhutan |
The QI teams are led by Prof. Ashok Deorari, Professor of Neonatology with keen interest in integration of quality of care concept in healthcare system of India and SEAR. Over the last one year, taking small QI initiatives to scale has been a difficult task but continuous perseverance, sharing results and involving all potential stakeholders has enabled us to overcome this challenge. Join the QI movement at AIIMS!
Contact Prof Deorari at This email address is being protected from spambots. You need JavaScript enabled to view it.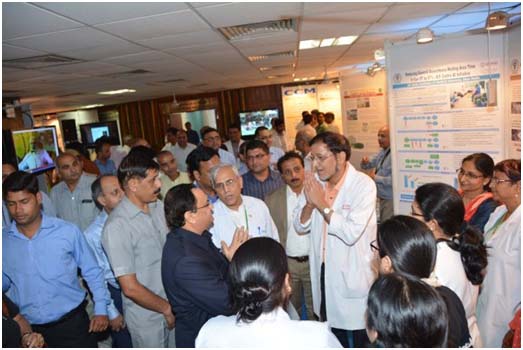 Health Minister with Director AIIMS visiting QI team posters on AIIMS Institute day 2015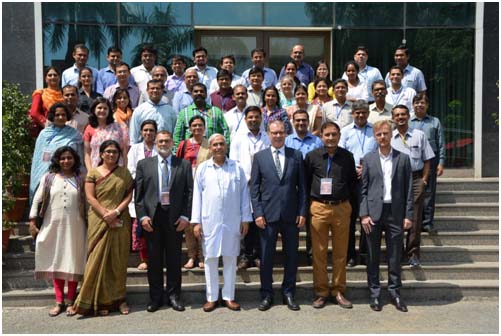 Director AIIMS with QI leaders from USAID ASSIST, IHI and teams from 6 AIIMS, PGI, JIPMER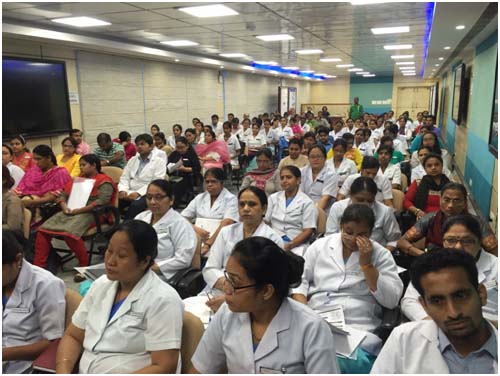 AIIMS nurses in Sensitization meeting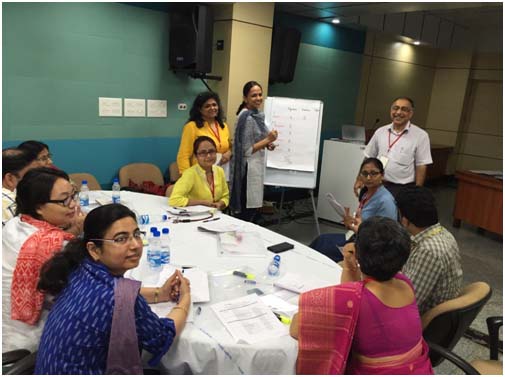 AIIMS faculty and nurses engaged in QI group work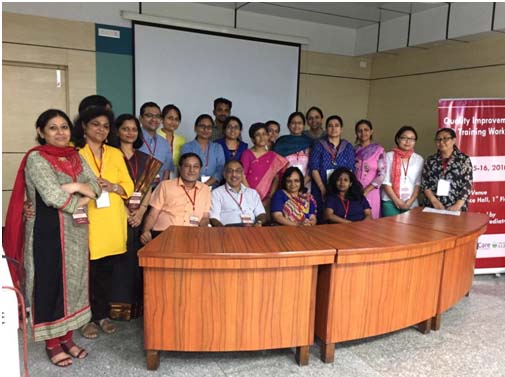 Learning from the EPIQ QI workshop at AIIMS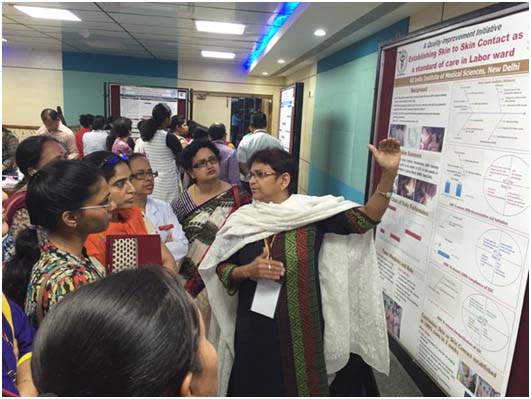 Poster presentation of QI projects by AIIMS QI teams
For more information and updates - visit AIIMSQI.org