We care for children, and we excel! We are a dynamic and vibrant Department, recognized as India's leading academic health centre for pediatric specialty and subspecialty healthcare education and research. We are a diverse group comprising of academic faculty, clinicians, scientists, researchers, postgraduate and DM trainees, research and doctoral fellows and technical and administrative staff united in our common goal of improving the health of all newborns, children and adolescents.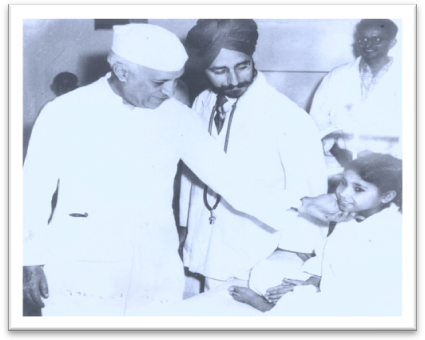 The founding fathers of our Department are late Prof. O.P. Ghai and Prof. B.N.S. Walia.   Inaugurated by Prime Minister Jawaharlal Nehru in 1960, we have gone from strength to strength in the ensuing decades, guided by inspiring and visionary faculty, and enriched by brilliant students and scholars.
We are amongst the very few Departments in the country to have well-developed Pediatric subspecialties of Neonatology, Genetics, Nephrology, Neurology, Pulmonology, Intensive Care, Endocrinology, Oncology, Infectious Diseases, Rheumatology, and Gastroenterology & Hepatology. We prepare future leaders in pediatric medicine by offering broad-based training in general pediatrics, critical care and pediatric subspecialties within a variety of ambulatory, emergency and inpatient settings. Besides MD and PhD programs, the Department offers DM courses in Neonatology, Pediatric Neurology, Nephrology and Pulmonology & Intensive Care.  
We are credited with development of  a vaccine (Rotavirus), two new diagnostics (Cystic Fibrosis, Celiac Disease),improved drugs (neonatal Surfactant, low osmolality ORS). We hold multiple patents and are among the leading departments in the Institute in extramural funded research.The Department has excelled in developing innovative educational programmes for doctors and nurses, including an online educational program on newborn care already accessed by 1500 health professionals/ trainees in 6 countries. The Department hosts sister websites www.newbornwhocc.org and www.kmcindia.org on newborn health and Kangaroo Mother Care.
During 2013-14, the Department provided outpatient consultation to more than 100,000 children and inpatient care to over 6000 children and 2500 neonates. The Department is  a collaborative group comprising of 17 faculty members, 2 scientists, 16 DM residents, 25 Senior residents, 31 Junior residents, 21 Ph.D. scholars, nearly 100 nurses,  32 staff memebrs and over 100 research staff.
Our vision is to be one of the ten best academic centres of Pediatrics in the world before 2020. Our mission is to improve the health of children through world-class excellence in education, patient care, research, innovation and policy assistance. Our core values are accountability, enabling mentorship, child friendliness, partnering, team spirit, good governance and fraternal ethos.
We have been ranked as the Best Pediatric Department in the country by The Week and the Best Speciality Hospital in Paediatrics in India by CNBC TV 18, but for us the most important measure of our success is the smile of our patients and their families!
Special Status: The Department of Pediatrics has made an outstanding contribution to national and global child health policy and programs. The Department hosts:
.WHO Collaborating Centre for Training and Research in Newborn Care for South East Asia Region
.WHO Collaborating Centre for Training in Clinical Laboratory Genetics in Developing Countries for South East Asia Region
.Government of India Centre of Excellence in Genetics
.Government of India Centre of Excellence in Neonatology
.ICMR Centre for Advanced Centre Research in Newborn Health
.DBT Program Support for Clinical Genetics
.DBT Glue Grant Program Support for Translational Health Research in Child Health
.ICMR Advanced Centre for Pediatric Gastroenterology and Nutrition.